So I am feeling very spoiled indeed as Ed has just been given a Vitamix Pro 300 for my birthday!  I have wanted one for ages but couldn't ever justify the eye-watering price tag.  But when you add up the cost of your magimix, juicer, ice cream maker and then add on the number of days of your life you will save because the Vitamix is so insanely quick and efficient it is mind-boggling – and you can somehow arrive at a point where £600 on a bot of kitchen kit seems like rather good value….!
Anyway… this is my new love: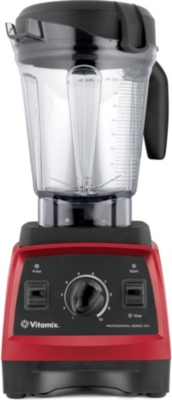 I love her at least 3 times a day and sit and admire her for the rest… She makes my morning juices, my evening hot chocolates, my lunchtime soups, my curry sauces, my pestos, my hummus, my ice creams, my milkshakes, my smoothies, my sorbets, she is amazing!
The biggest advantage she has over previous lovers is her speed and efficiency.  She is so easy to clean that it never puts you off as it did with the juicer and the magimix.  So you don't find yourself making a cup of tea every morning instead of the  healthy green juice you promised yourself but now can't be faffed to make.  I love that there is zero waste with new lover.  Everything goes in, apple cores, pineapple cores, lemon and lime rinds, nuts, seeds, you name it.  And to be able to make fresh, piping hot soup in just 5 minutes is just amazing!
So to anyone hesitating over whether to get one or not – I say go for it!  Even if you have to live on baked bean puree for a few months – it's worth it!